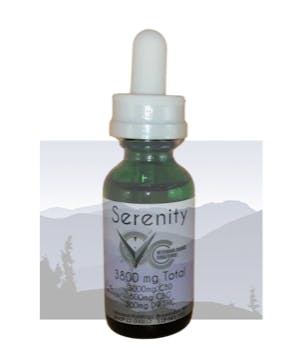 Serenity Tincture 3,800mg
Flavor: Flavorless
Effects: Relaxed, Calm, Clear Mind, Happy
Get ready to discover a whole new world of tranquility with Serenity. This tincture is your key to embracing calm, focused days and restful nights, offering a gentle touch of balance and well-being that's always within reach. After all, we believe that peace of mind is a necessity, not a luxury. Experience the harmony of Serenity, because you deserve nothing less.
Sail smoothly into a realm of calm with Veterans Choice Creations' Serenity Tincture, an essential part of our daily regimen as a 100% disabled veteran-owned enterprise. Handcrafted with utmost care in our Broadalbin, NY, facilities, Serenity is not just a tincture; it's our way of sharing the tranquility we've found in the dance of cannabinoids.
Each 1-ounce bottle of Serenity bursts with 3800mg of premium cannabinoids, carefully balanced to offer you the best of their therapeutic effects. With 3000mg of CBD, 500mg of CBG, and a measured 300mg of THC, Serenity offers a symphony of support for your wellness journey.
So, why this particular blend? CBG, often dubbed the "mother of cannabinoids", augments the beneficial effects of CBD while moderating the psychoactive effects of THC by competing for the CB1 receptor. This ensures a smoother, more balanced experience. CBD, in turn, keeps the receptors refreshed, maintaining the effectiveness of the tincture.
The carrier for this harmonious blend? Quality MCT oil from coconuts, ensuring a seamless delivery of our cryo-ethanol extracted cannabinoids for maximum absorption.
Dosing is simple with our guide: a half-dropper per serving. With 30ml in the bottle and each full dropper containing 1ml, you're set for a month of serene days and calm nights.
Ingredients: MCT Oil from coconuts, Cryo-ethanol extracted cannabinoids (3000mg CBD, 500mg CBG, 300mg THC).
Effects
Relaxed
Sleepy
Happy